Capitan Municipal in the News
Our small town school accomplishes great things, and there is plenty of important and interesting information to share about our schools and the great students and staff that make us proud. Check back often; we will keep you up-to-date on the many endeavors and goings-on of our students and staff at Capitan Municipal.
Mill Levy Election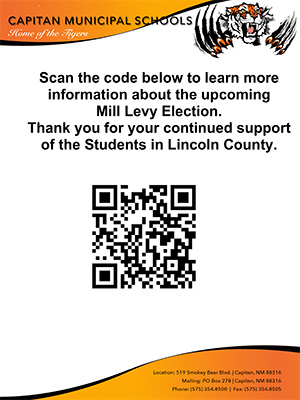 Superintendent Lee has put together a bunch of information about the upcoming Mill Levy Special Election and its importance to the district's operations. Please scan the QR code or check out our Padlet to learn more about this important election. Thank you for supporting our students!
To stay up to date with Capitan Municipal Schools, please follow us on Facebook or on our website.